Affordability's secret weapon – the 'ipad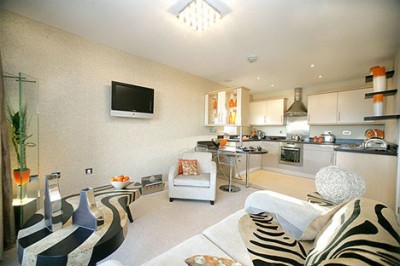 It's the same old story – creatives would kill to buy a home downtown, but they're simply too expensive, so they end up in a less desirable location on the outskirts while all the lawyers and executives move in instead.
Enter the ipad (though the name may have been challenged by Apple), pioneered in the UK by Barratt Homes, and packing a whole lot of value in a tiny package, get it?
Granted, the ipad isn't the solution for most of the creative class, but if you're looking to own a cool residence in the hottest downtown neighborhood that'll also likely turn you a nice profit by the time you move out, this is pretty good. IF the least expensive condo in your neighborhood of choice fetches $200,000, this will probably run around $140,000. The catch? Would you believe the image above is of a place that's 380 s.f.?… and that includes a bedroom as well. What makes this place different? The theme is unmistakably high style/low cost; kind of like if Ikea did your interior. When's the last time you came across anything in real estate that was high style/low cost?
The one thing I'd change is to ensure the ceilings were at least 10 feet high, which some ipads actually are, plus extra large windows. It makes a dramatic difference in size perception.