Seeking the CoolTown adventure capitalist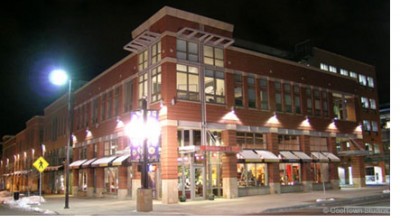 One reason why more of us don't walk down the street each day and exclaim, "Wow, I'd love to live/work in that building!", is because we're missing adventure capitalists when it comes to real estate.
Adventure capitalist – An entrepreneur who helps other entrepreneurs financially, and often plays an active role in the company's operations. It's a more defined role than a venture capitalist; someone who invests in a business venture, providing capital for start-up or expansion, thus looking for a higher rate of return than might be given by more traditional investments.
Oh, I work with a talented community of entrepreneurs who know how to develop those wow buildings – you know, something like the attainable open-plan loft-type residences with lots of light and high ceilings, over open-plan offices with the same character, over the contemporary neighborhood third place on the ground floor, capped by a roof deck with a great view of the downtown…** – basically investments where the demand to supply ratio is 10:1 (probably more), but we're missing the adventure capitalists. You see, real estate investment funds will invest only in companies like themselves that have developed the same thing over the last several years (most of which is less than wow), but not entrepreneurs. Only adventure capitalists will, who are entrepreneurs themselves, and so far, they haven't quite made the jump to CoolTowns and real estate yet. Yet. My feeling is that when they do, they won't go back.
One such adventure capitalist opportunity is transforming a historical Midwest downtown 100,000 s.f. building into a hub for high-tech companies – a $2.3M investment with a 20% operating income annual return plus $2.2M increase in property value, or a $3M investment in a 300,000 s.f. downtown building in the Mid-Atlantic/South hosting a major university graduate school on the top two floors with even better returns. Each of these is just the first piece in multiple investments in the surrounding area, effectively reshaping a neighborhood from ho-hum to wow.
**and perhaps a few blocks from a pleasant yet bustling pedestrian-oriented piazza or paseo filled with outdoor diners at the coolest indie restaurants, but ah, that's phase five…