Car sharing's popularity continues to rise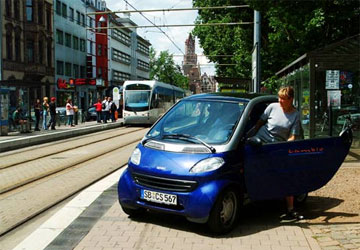 Ok, so maybe this image of a pedestrian-only street, sleek streetcar and Smart car sharing is the future rather than the present in the U.S. (it happens to be a current image in Germany), but maybe not so far down the road. Progressive efforts like in Arlington County, Northern Virginia, helps.
Two years ago, I highlighted the car sharing program that Arlington County was piloting. So, how's it doing? Some of the results:
– Car sharing membership, featuring Zipcar and Flexcar, tripled from 2004 to 2006, with 3.6 times the number of car sharing vehicles.
– 83% of car share members live in Arlington's Metrorail corridors, 50% of whom both work and live in Arlington.
– 5% of Arlington residents living in the transit corridors are car share members.
– In the last year, car share trips increased 27%.
– 47% vs 30% use transit more often
– 65% vs 19% save money on transportation
– 47% vs 30% walk more often
– 71% vs 15% were able to postpone buying another vehicle
– 85% were more confident about the private-sector car sharing services being partnered with the county than not.
They're enthusiastically continuing the program. By the way, the car featured in the image is the Smart car, and it was just announced that it's hitting the U.S. within a couple of years. It's all happening sooner than you think!