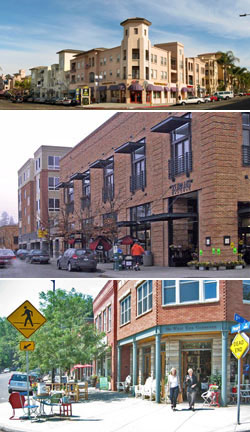 If you want to better understand what makes a place successful and you can't visit it, the very least you can do is find some imagery on it (this website being no exception!) That's the purpose of the EPA's Smart Growth Illustrated research. They provide visuals for 20 case studies by category, but here are the 14 that apply to this website's target market:
Mix Land Uses
Eighth and Pearl, Boulder, CO – A benchmark for attainable, mixed-use, urban infill. (Lower image)
Take Advantage of Compact Building Design
Belmont Dairy, Portland, OR – Quite the cooltown type of development. (Middle image)
Create a Range of Housing Opportunities and Choices
Hismen Hin-Nu Terrace, Oakland, CA – A how-to in redeveloping an abandoned 'big box' into a housing community that celebrates the local culture.
Benedict Commons, Aspen, CO – Now this is some gorgeous, relatively affordably-priced multi-family housing…
Create Walkable Neighborhoods
Bethesda Row, Bethesda, MD – Upscale and chain-ridden, but beautiful architecturally with lots of outdoor dining.
Foster Distinctive, Attractive Communities with a Strong Sense of Place
The Can Company, Baltimore, MD – A model redevelopment, from a factory into a hip workplace and dining destination. Profiled earlier.
Downtown Brea, Brea, CA – A great example of the revitalization of neglected downtowns happening across the country.
Strengthen and Direct Development Towards Existing Communities
Mizner Park, Boca Raton, FL – A visually striking contemporary urban/suburban town center
Uptown District, San Diego, CA – One of the best examples of a small neighborhood retail center. (Top image)
Provide a Variety of Transportation Choices
The Crossings, Mountain View, CA – A little too much 'mass homebuilder' in appearance with only a smidgen of retail, but it is built directly on a transit station.
Make Development Decisions Predictable, Fair, and Cost Effective
Green Tape Program, Silver Spring, MD – Why can't all cities work with developers like this?
Compact Development Endorsement Program, San Francisco, CA – Environmental endorsement by a respected environmental organization.
Encourage Community and Stakeholder Collaboration in Development Decisions
Barrio Logan, San Diego, CA – Good example of how the CoolTown beta community program would work
East Russell, Louisville, KY – Inspiring story of how low-income residents went to work to improve their community instead of complaining about how bad it looks.