The success story behind Memphis' Beale Street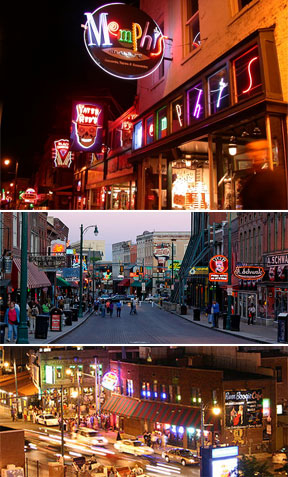 How does one turn a boarded up main street into the iconic historical, cultural and musical destination that is Beale Street today? It took an immensely forward-thinking young developer, John Elkington, that understood the history well enough to invest in its future. The following is based on his interview with Smart City Radio.
Brief history. In the 1920s and 30s Beale Street was an entertainment mecca for African-Americans and one of the few main streets in the country where they were free to go wherever they wanted to. When segregation was outlawed in 1954, its regulars began moving elsewhere, and after the MLK riots in 1968, (MLK's last public march was on Beale Street), the downtown was all but abandoned.
Turning point. 13 years later, what made Elkington think he could redevelop Beale Street?! "It was youth," he says, "I was 32 years old at the time." That youthful energy motivated him to interview 100 black leaders to better understand what Beale Street could and should be.
The vision. Based on the Elkington set three very specific goals for Beale Street:
1. Return commerce. Today 35% of owners are African-American.
2. Establish it as the music center of the region (To help set a benchmark and because there was little initial interest, Elkington's team started their own jazz club that they felt best represented the music, culture and history for the street, the Rum Boogie Cafe)
3. Remove any barriers, real or imaginary, in order to benefit from participation by all.
Lessons learned. Elkington list five things you've go to do to establish a successful entertainment district:
1. Support of the government, mayor, city council
2. Get police department to provide crowd security in a defined destination
3. Group of potential customers (civic tourists, creative class)
4. Tenant plan where potential tenants understand the vision
5. Game plan (lenders, city, customers) to set the right level of expectations
The power of authenticity. In the interview, Elkington is asked why Beale Street is so successful despite not having any theaters, chains or trendy venues?
"We're genuine. We're real. It's allowing your tenants to be as creative as possible… The idea of putting in an Appleby's, Chili's or Macaroni Grill would have been a travesty… You want every experience to be unique. We're living in an experience economy, we really are. People are looking for things that are different. We're looking for things that have longevity."