Primer on perusing this website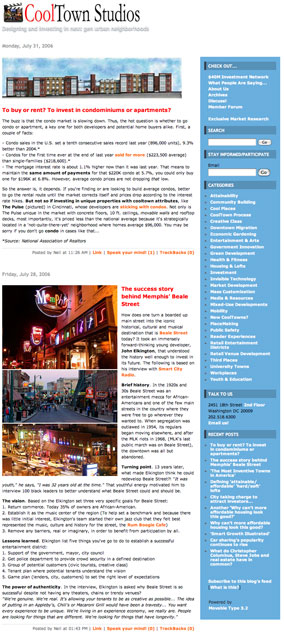 With a quarter million page views last month, it may be a good time to provide a summary of what you can find on this website:
Daily weekdays: A new cooltowns entry with image. Except holidays!
$40M Investment Network – For cooltown investors and 'investees' seeking one another
What People Are Saying… – Unsolicited feedback on our website
About Us – What we do, who we are
Archives – All 800+ entries since day one!
Discuss! – Message board to carry on discussions, share images amongst yourselves
Member Forum – Research and image library for members
Exclusive Market Research – Link to sign up for the above
Search – Find anything written within all 800+ entries.
Stay Informed/Participate – Sign up for email reports, join a business group, or national/international discussion listserv.
Categories:
Attainability – Affordability without subsidy
Community Building – The 'software' to the bricks & mortar 'hardware'
Cool Places – Great places from around the world (need your entries!)
CoolTown Process – The CoolTown methodology
Creative Class – The 38 million people that make up the heart of cooltowns
Downtown Migration – Downtowns truly are experiencing a renaissance
Economic Gardening – Growing your economy with local companies rather than stealing others'
Entertainment & Arts – What's fun and creative in your neighborhood?
Government Innovation – You'd be surprised. Visionary mayors are a requisite.
Green Development – Lots of environmentally-conscious green building examples
Health & Fitness – Evidence that cooltowns are indeed good for you
Housing & Lofts – High style, low cost – that's the theme.
Investment – Focused on those with investment capital
Invisible Technology – Cooltowns are high-tech, but more so if you don't notice it
Market Development – Understanding the target market – you
Mass Customization – An evolving economy based on customer-driven products and services
Media & Resources – In the news and news sources
Mixed-Use Developments – Model housing/retail/office buildings
Mobility – Aka transportation, but from a pedestrian point of view
New Cooltowns? – On the drawing board
PlaceMaking – This is where new urbanism, smart growth comes in
Public Safety – Lessons on establishing safe neighborhoods
Reader Experiences – Places our readers find cool
Retail Entertainment Districts – This is a big one – the heart of a city or neighborhood
Retail Venue Development – The most intriguing indie restaurants and shops
Third Places – Not your home or workplace, but places to hang out away from both
University Towns – Developments around universities, the well of talent
Workplaces – Innovative workplaces that don't resemble anything like the 9-5 cubicles
Youth & Education – Why there's hope for the future