64% of young adults choose place over job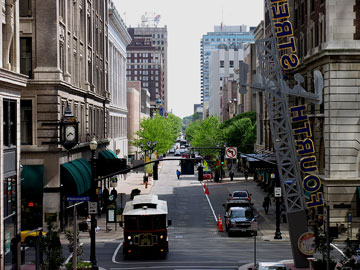 How important is it for cities to invest in their quality of life over jobs? If they expect to attract 25-34 year olds, it's pretty darn important. According to a recent study*, 64% of college-educated 25-34 year olds chose the city they want to live in before the job.
Women were more apt to choose place over job than men, 69% for women, 60% for men. How clean, green and safe a city is factors more into a woman's decision than men regardless of job.
The study's researchers identify three main factors for the preference of place over job:
– More choices in how people work, such as telecommuting or working independently, a natural outgrowth of an information-based economy.
– More women in the workplace. As mentioned, quality of life is more important to them, prioritizing clean/green/safety, raising a family, and develop their life aspirations and goals, followed by ability to make connections, diversity, and outdoor gathering places.
– No expectation of being with a company permanently.
*The study, Attracting the Young, College-Educated to Cities, was commissioned by CEOs for Cities and conducted by The Segmentation Company. A SmartCity Radio interview with Meredith Gilfeather, the senior researcher on the project, can be listened to here.
Tomorrow, the researchers' suggestions for attracting this demographic.
Image: Downtown Louisville, KY