Attracting new residents downtown via the web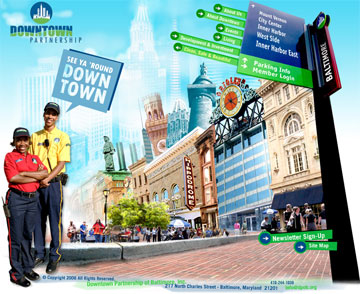 Our last entry focused on a model for attracting new residents to a city, but what about a specific district or neighborhood, like a downtown? Baltimore once again provides a model website for achieving this with its Downtown Baltimore website.
First of all, they do a great job with a video that captures the clean, green and safe theme that's at the forefront of potential urbanites, especially women. Every downtown should have a video this well put together.
Second, for housing seekers, they wisely choose to integrate with the Live Baltimore Home Center (previous entry), one of the best tools anywhere for helping people relocate to the neighborhood and home they really want.
One feature the site could use to acquaint first-timers unfamiliar with the downtown is a visual map of where the restaurants, bars, and stores are, such as this interactive map in downtown Raleigh, NC, run by Geocentric.
Oh, and the Downtown Baltimore website just plain looks vibrantly inviting and welcoming, a branding lesson more districts and neighborhoods could learn from.