"Welcome, we are building an inclusive community"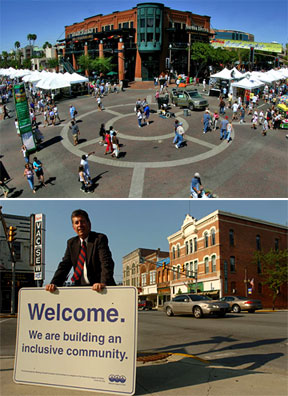 That's the official sign you'll see in sixty-eight cities across 28 states (and counting). Why?
Based in part on economist Richard Florida's research documenting how diversity generates jobs, isolated smaller cities and towns are realizing they need to work harder than metropolitan areas in attracting a diverse talent pool.
From the sponsoring organization, "The Partnership for Working Toward Inclusive Communities, an effort led by the National League of Cities, unites city leaders who are working to support such issues as racial justice and inclusionary zoning as well as those who celebrate the diversity of race, religions and cultures in order to build communities that are accepting and representative of the differences among its citizens."
Cities joining the effort sign a proclamation that they will support inclusion, receiving the aforementioned signage, formal listing, and assistance with developing inclusionary programs.
The definition of inclusion is purposely left open for interpretation by each city, ranging from ethnicity, income, age, gender, sexual orientation, religion to culture. Hopefully all.
Image: Above, Tempe, AZ; below, Bluffton, IN, both recognized as inclusive communities