The next great public places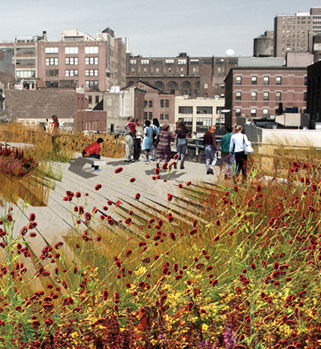 Many of us are aware of the immeasurable value that Central Park, NYC and Golden Gate Park, SF bring to their respective cities. In the words of Frederick Law Olmsted, designer of Central Park, "There need to be places where the rich and poor, the cultivated and the self-made shall be attracted together and encouraged to assimilate."
Economically speaking, extraordinarily designed public places more than replace the opportunity costs of the land they take up by significantly raising the value of the land both adjacent and within walking distance around them.
However, is anyone aware of what the next generation of such celebrated public places could be? Good Magazine provides a sneak peak:
The High Line, Manhattan, NY – $60M, 7-acre former elevated railroad. "It became the kind of legendary place you had to sneak into from the rooftop of a Chelsea art party—a forbidden world of weeds and graffiti. It was beautiful but unseen, private but floating just above the public streets." (pictured)
Brooklyn Bridge Park, Brookyn, NY – $150M, 85-acre waterfront park transformed from an outdated industrial site, will finally provide New Yorkers with the first true waterfront community.
Rose Kennedy Gateway, Boston, MA – $31M, 1300-acre parkway through the city, replacing a highway with "volleyball courts, concerts, art festivals, hanging lanterns in the autumn, a bamboo forest, performance space and events for school children".
Also profiled are Orange County Great Park, Irvine, CA and JetBlue Terminal at JFK Airport, Queens, NY. One can hope the Orange County park can inspire the built environment around it.