Add to your town's creative experiences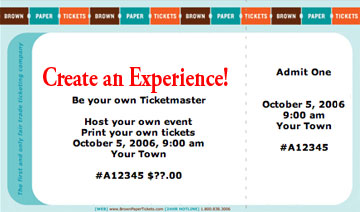 It depends on it. Especially if you feel your community is lacking in the kinds of events you want to attend.
In today's experience economy and customer-made world, we are literally becoming the sum of what we individually create, rather than forced to accept what is mass-produced for us. This means that instead of finding what's on TV that night, you could be hosting your own event, experience, concert, fundraiser…
Of course it helps to have partners, which is why indie businesses are so important to the local culture and economy (chains require approval from national headquarters), and now there's even a way to be your own Ticketmaster, and without being evil, as they say. Based in Seattle (is it a coincidence that's where Pearl Jam is from, the David to the Ticketmaster Goliath?), Brown Paper Tickets allows you to print and sell your events' tickets online for free, while buyers pay a 99 cent fee plus 2.5% of the ticket cost, half the typical fees. Then put it on your own neighborhood's TV guide of events, like MidCity in Washington DC does.
One fun opportunity is to print tickets for a downtown 'mad money' event that involves the indie merchants, where people buy $10, $20, or $30 tickets for once-a-month price-fixe specials at restaurants or gift packages at stores, creating a vibrant buzz of activity in your neighborhood. Now you're in control.