ZeroOne – Where art and technology create compelling experiences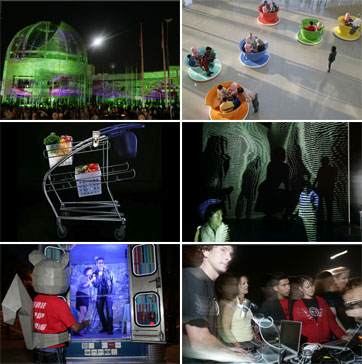 The TV set. Computer. Cell phone. Movie theater. These are technologies that showcase art, but it's hardly what you'd call immersive or remotely profound. Enter the ZeroOne San Jose Festival, a biannual digital arts festival featuring 2000 of the world's most innovative contemporary artists from 40 countries, focused on the intersection of art, culture, community and technology.
The purpose? To celebrate Silicon Valley's technology prowess through art, culture, community, thus attracting the world's top talent and stimulating economic development.
How'd it happen? The City of San Jose won a bid to host the International Symposium of Electronic Arts of 2000 professionals that meet every two years somewhere in the world, and decided that was a great time to add a 7-day festival to attract 50,000 people, with the help of the downtwon tech museum, 40 arts/technology organizations, and the local university, San Jose State.
The festival also hosted a global leadership forum on integrating economic and cultural development with 15 world cities, including Shanghai; Yokohama; Seoul; Liverpool; Helsinki, Finland; Linz, Austria, profiled next week)…
However, the action is at the art and technology exhibits, where people experience emotional connections like never before. A tiny handful of them include: a giant digital tiger running across buildings, an immersion of yourself into nature like the character in Predator, industrial designs from world leader IDEO, a teacup ride that exchanges music when bumping other cups, community karaoke via ice cream truck… and tons more here. Talk about your innovation overload, a good sign of economic growth.