Is your city a burden to creatives?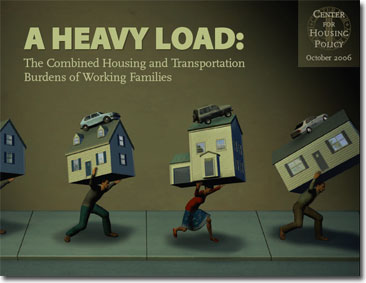 If it doesn't have walkable urban neighborhoods, it could very well be. Based on a recent study, A Heavy Load: The Combined Housing and Transportation Burdens of Working Families by the Center for Housing Policy, in many ways for creatives, living in an auto-oriented small town is less affordable than subsisting in Manhattan.
The study covered low- to moderate-income (ie including artists, musicians, entrepreneurs just starting out) working families (married with and without children, single parents with children) across 28 major metropolitan areas nationwide. It found that combined transportation and housing costs were extremely constant, averaging 57% of annual income (with a low of 54% in Pittsburgh to a high of 63% in San Francisco.) However, among all household types of every income, those combined costs are only 48%, with just about all of the difference coming from transportation costs (see study table below).
What does this help conclude? Creatives, the key to job growth in your city, will find ways to make housing affordable, attainable (ie smaller units, shared housing). However, in order to support the creatives in your city that are incubating potential fast-growth companies and cultural destinations, if you don't have urban neighborhoods where owning a car is an option rather than a requirement, that's an unnecessary financial burden that lessens the mystery of why so many creatives aspire to move to Manhattan, as profiled just previously.