Celebrities investing in inner cities in a big way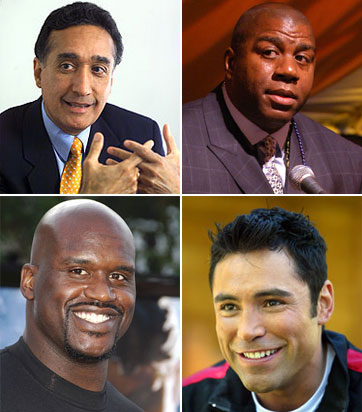 Henry Cisneros. Magic Johnson. Shaquille O'Neal. Oscar De La Hoya. From a member of President Clinton's cabinet to a world title holder, these four have one thing in common – investing in inner cities, and with significant economic and social impact.
Henry Cisneros – Henry founded CityView after his White House service "to help create the highest quality housing for America's working families", partnered with a $500M revolving fund from California Public Employees Retirement System, the country's largest public pension fund. The firm is just now getting into more urban development. Building housing that people can afford has been very profitable for the fund, garnering a 20% return. That's significant for a pension fund.
Magic Johnson – Magic established the Johnson Development Corporation over a decade ago to bring retail and entertainment to inner cities. Ok, so his idea of retail entertainment consists of national chains, but with a presence in 65 cities and a billion to be invested in three years, that's a good core to leverage more creative development with.
Shaquille O'Neal – This is where too much star power can compromise the vision. While Shaq is contributing to a $ billion in investment in downtown Miami, "I'm trying to give people a better way of living," he says, it also happens to include plans for "the tallest residential tower south of NYC", which I doubt is a result of what the neighborhood really wanted.
Oscar de la Hoya – Oscar's vision is very similar to Cisneros', featured in the NY Times' Fighting for Housing. His mission, backed by a $100M in equity, is to 'revitalize Latino neighborhoods by building nice homes that are affordable for people who work in the area, teachers, nurses, fire and police.'
The point of this article is best expressed by de la Hoya's business partner, experienced real estate developer John Long, "The choice of the next generation will be urban. They won't want to commute."