A slice of creative class nightlife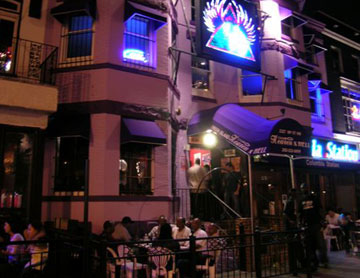 We know there are studies (Competing in the Age of Talent) that correlate population diversity to a city's economic growth; that young adults create jobs and are a key source of the creative class' job base of designers, scientists, engineers and artists, and that nightlife is a key determinant in choosing a city…
So, what is an example of this nightlife that everyone's talking about? Washington Post writer Ellen McCarthy finds out what that means in Washington DC, providing a benchmark for other cities and towns to ask, "Do we have nightlife like this to attract or keep the creative class?" Ellen's adventures include:
– A night out at a salsa club with a couple of Latino women in their late twenties, one single, another a single mom.
– Bollywood2Night with a 23-year-old Indian engineer, with music from Indian films followed by a DJ spinning some bhangra.
– Karaoke night with a Japanese family, except the parents are in their late 50s and their sons are in their early 20s, plus 10 of their friends.
– Persian pop star Arash's concert with three Persian teens, one of many ongoing Persian events in the area.
– A regular experience of contemporary music and dancing at an Ethiopian restaurant/club with a 22-year old Ethiopian man and his friend.
– A single 32-year-old Brazilian man's weekly outlet at a Caribbean club that makes him feel at home.
How does your city/town stack up?