What will the next generation of Manhattan look like?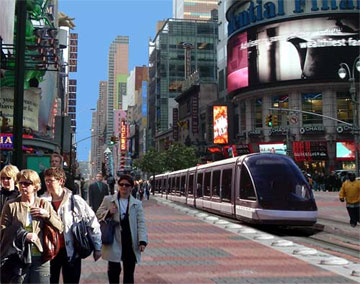 No cars on 42nd Street, for starters, if Vision42 is executed, an initiative for a cross-city pedestrian mall with light rail backed by seven NY elected officials, the Hilton Times Square Hotel and numerous organizations.
This is not just another social cause, it's a significant economic one. With the overall economic trends of cities gaining in popularity and population, Vision42 recently completed a study concluding that business would grow by 35% to $1.49 billion a year, city and state tax revenue would thus increase by an additional $28 million a year, and property values would rise by $3.5 billion, translating into another $277 million in property tax revenue. This doesn't reflect the fact that restaurants could also double their seating area into the street (now a pseudo piazza) at no cost, transforming a street and corridor into a place and destination.
The main obstacle? The group wants the City to invest an estimated $360 to $510 million to convert the streets and build a light rail system to connect commuters at the ferry terminals on either side of the street. Frankly, I'm not so sure a light rail system is not more a product of an outdated industrial economy (it's a 19th century invention with a different skin), being replaced by the 'just as cool', flat-to-the-ground, 'fraction of the cost', flexible second generation BRT (not those ugly articulated buses aka bus rapid transit), and even 'STVs' ('sports transit vehicles'). You could fund five of these streets with flexible mass transit rather than just one with an inflexible system, five times sooner, and with just as much if not more pizzaz and style.