$10,000 reward for helping get cool towns built!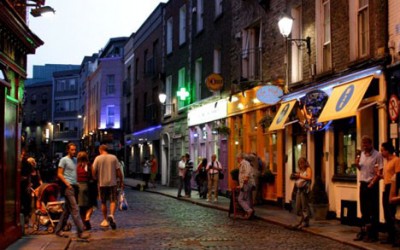 Why is it that one look at the image above tells you this is not in the U.S.? The bigger question is, why not? How about a place like this in your own town, with your own local, independent cafes and shops below, entrepreneurial offices above, and lofts above that? Or perhaps a section where the whole street is full of outdoor dining? Wi-fi everywhere. Nightly happy hours and live music, weekly poetry readings and plays, monthly international socials and cultural events, a genuine sense of community…
It's time we used the power of the net, crowdsourcing, and the beta community – in other words, you all – to help spend what amounts to $150 million in equity capital that would invest in places like this, at a minimum of $5 million per investment (not enough impact otherwise). The related question to the one above is who are the next generation of real estate developers and cities that want to see that happen and only lack capital to do so?
So, CoolTown Studios is offering a $10,000 reward, payable immediately upon the actual investment transaction, if you can refer such a progressive, high-integrity real estate developer (yes, they're not all bad) to utilize this kind of capital (I will keep you updated on what happens with your leads no matter what happens). To the developer's relief, the investment entity takes a passive role. Now, because of the amount of $ involved, it has to be a development team (rather than an individual) who has demonstrated success among its members, and remember, this is about building communities for the audience associated with this site's readership. That's what this is all about. If you'd like to be part of a national beta community to help develop such a place, wherever it is in this country, contact us (email link to the right) and start meeting other people who share your vision.
Image: This is the Temple Bar district in Dublin, Ireland It was almost demolished in the 1980s, and is one of the most economically, culturally prosperous destinations in the country today.