The first multi-unit LEED-certified residential building in the U.S.!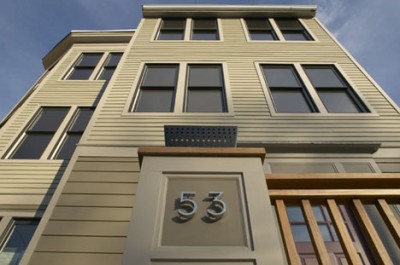 Hard to believe, but according to the U.S. Green Building Council (USGBC) and its evaluation arm, Conservation Services Group (CSG), 53 Standish Street in Cambridge, MA is the first multi-unit residential building to be LEED-certified, which is the criteria for green development.
Constructed by AEDI Development, 53 Standish scores high with the following green building features:
– Within walking distance of public transportation and shops.
– Designated as an Energy Star-labeled home by CSG with a 93.3 rating, on a 100-point scale.
– Low-e argon windows, high-efficiency lighting fixtures, compact fluorescent bulbs, recycled cellulose insulation, instantaneous water heaters, programmable thermostats, mechanical ventilation, and high-efficiency gas furnaces and air conditioners.
– Low-VOC (volatile organic compounds) paint, recycled fiber carpet, bamboo flooring and 90% Forest Stewardship Council-certified harvested wood content moldings.
So why did the developer invest all that time and knowledge in constructing such a green-worthy building? As Lisa Rinkus, a CSG spokesperson simply puts it, "We're seeing a lot of consumers demanding it."