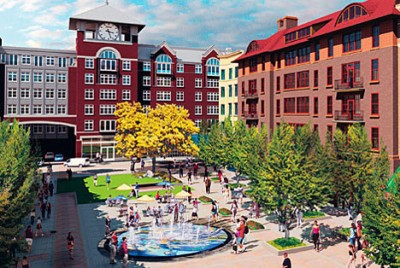 True piazzas (pedestrian-oriented plazas completely enclosed by buildings, ringed by restaurants and shops and offices and housing above) are everywhere in Europe, but nowhere to be found in the U.S.
Rockville in Maryland is doing their part with its upcoming Rockville Town Square, a new $360 million, 15-acre town center for their rather suburban town just north of Washington DC. It's not a true piazza in that there are auto-oriented streets on two sides, but if you take a look at the map, it's getting close… and yes, city officials were indeed using Italy's piazzas as a model.
Not surprisingly the housing prices aren't attainable by most and national chains will occupy much of the commercial, so it isn't a very 'cool town'. However, hanging out in the 'piazza' along with its many events is free, and the City is offering $10 million in rent subsidies and relocation funds for local merchants that were dislocated in the redevelopment.
Vitals:
– 108,000 s.f. of restaurants and shops, 644 condominiums in three stories above
– 100,000 s.f. library on the town square
– Two blocks from Washington DC Metro/subway.
Read more in this NY Times article.