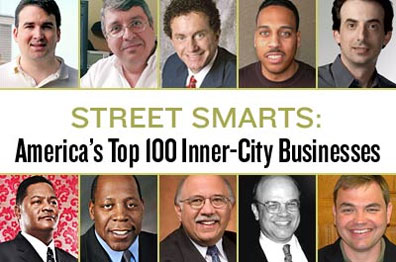 Need some inspiration for inner city job growth? Want to know what the fastest growing inner city businesses are? Inc Magazine and Initiative for a Competitive Inner City provide an annual Inner City 100 list to answer just that. Inner cities here are defined as economically-challenged core urban areas excluding central business districts, and the candidates must be independent businesses.
The top ten, which seem to serve more than just the financial bottom line:
1. Commodity Sourcing Group, Detroit: Supply-chain management between hospitals and their vendors
G (revenue growth 2000-2004) 10,028.3%; R (2004 revenue) $21.1 million; E (employees) 54
2. Piston Group, Detroit – Automotive supply training unskilled local people in manufacturing and business, led by former NBA star Vinnie Johnson.
G 3,530.6% R $235.5 million E 330
3. Miscor Group, South Bend, Indiana: Industrial repair and manufacturing
G 3,412.8% R $28.9 million E 268
4. Mosaica Education, New York City: Charter schools, 70 in the U.S. and in the Middle East
G 3,078% R $91.6 million E 1,300
5. Talon/LPE, Amarillo, Texas: Environmental consulting, analyzes and cleans contaminated ground water
G 2,349.1% R $11.8 million E 93
6. Intercosmos Media Group, New Orleans: Domain registration and site hosting
G 2,346.4% R $22.7 million E 64
7. LatiNode, Miami: VoIP telecom carrier, serves 18 countries and supports 3 percent of the world's VoIP traffic
G 2,138.7% R $71.4 million E 86
8. Dynetech, Orlando: Business process outsourcing, helps start-ups get products to market
G 1,812.4% R $134.9 million E 358
9. ITSXpress, Long Island City, New York: Global air and ground shipping, launched as an international shipper, customer base includes the NFL, Major League Baseball, and NBC.
G 1,559.6% R $3.9 million E 15
10. Bare Necessities, Newark, New Jersey: Intimate apparel retail online
Notice how the next ten are heavy on high-tech:
11. VisionIT, Detroit: Technology staffing
12. Günther Douglas, Denver: Information technology consulting
13. AdminServer, Chester, PA: Insurance industry software
14. FIRE Solutions, San Francisco: Financial regulations training
15. National Logistics Management, Detroit: Logistics management
16. Focus Legal Solutions, Omaha: Administrative legal services
17. Integrated Management Services, Jackson, Mississippi: Engineering
18. Roxbury Technology, Jamaica Plain, Massachusetts: Printer cartridge remanufacturing
19. Pinnacle Technical Resources, Technology services outsourcing, Dallas
20. Tech Valley Communications, Albany, New York: Telecom services
Check out the full list here.