Evolving a retail center into a community center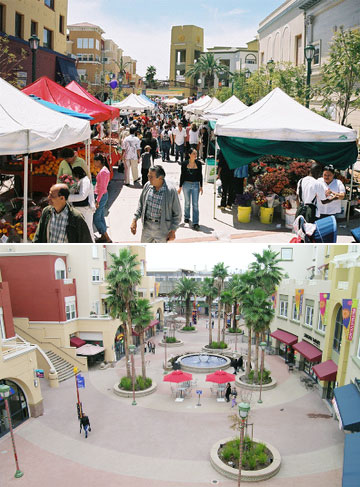 Retail seen as 'the Achilles' heel'; of some TODs (transit-oriented development), reads a recent New Urban News headline, spotlighting the Latino Fruitvale Village retail center in Oakland, CA.
We highlighted its difficulties with attracting patrons at the beginning of this year. The key is to establish the retail center as a community center – the equivalent of the town square where 'everything happens'. In other words, the place needs events, events and more events, and collective ones at that, like First Thursdays in Austin, TX. Compare the top image with the lower image. Good news, there are plans for more of what you seen in the top image:
– A popular, adjacent farmers market will extend into the main plaza.
– An outdoor cinema operates on Friday evenings in the plaza in the summer.
– First Thursdays, (sound familiar?) featuring food and mariachi music, will run from spring to fall.
– A public market will occupy one of the buildings.
– Permanent and temporary outdoor stalls will host smaller merchants selling arts, crafts and handmade foods such as tortillas. This outdoor marketplace can become the signature attraction in the plaza, for anyone who has traveled the world knows very well.
Finally, though, the plaza needs to be surrounded by the best up-and-coming entrepreneurial Latino chefs (aka VIBEs) in the Bay Area, for it's these kinds of venues that first establish a destination. It may be too late for that (ie a CoolTown-assisted casting call of VIBEs), which is why the above events are so critical.