Touchstone example of what the creative class is looking for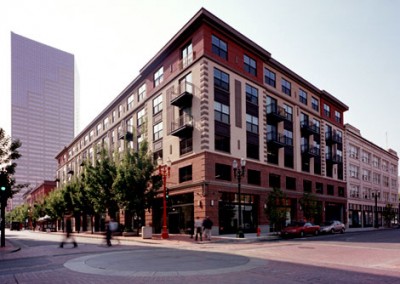 This is a great example of what the creative class is looking for – the strange thing is that this building, the Fifth Avenue Court Apartments in Portland, OR, is hardly getting any recognition at all (until perhaps now.) It's not even profiled on the architects' website! It just goes to show the disconnect between what people really want and what gets marketed, but we all know that's going to change soon.
Here's what makes Fifth Avenue Court so appealing to creatives:
– It replaces a surface parking lot.
– It brings residences to the downtown.
– The homes are affordable, with rents ranging from 60% of median income, yet also scaling up to a more diverse income level at 120% of median income. Not only that, the apartments surround an internal landscaped courtyard rather than an endless internal hallway, and near-floor-to-ceiling windows showcased by 13′ ceilings.
– It's in the heart of the historic downtown.
– It provides 16,000 s.f. of ground-level retail. Not sure what kind though (the building is at 211-245 NW Fifth Ave.), since it's not publicized anywhere…
– All parking is underground (157 spaces of it).
– The architecture reflects its historic context, yet its color scheme and use of detail materials is distinctly contemporary.
– It's within the transit network, convenient to multiple modes.
All it needs now is some recognition so more people have the opportunity to live in places like this, or even better, places like this…