Seeeeeriously cool workplaces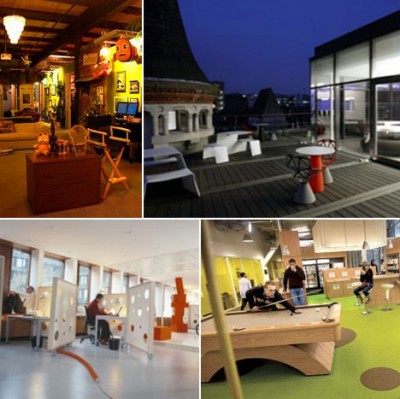 Tired of the office park, your home office or the downtown corporate office building? What kind of workplaces would you find in a cool town? One would think the author of a book called Happy Hour is 9 to 5 would have some answers, and Alexander Kjerulf does in 10 Seeeeriously Cool Workplaces.
His top 10 list with pictures and descriptions, in no particular order (though location-wise, they may not necessarily be in a cool neighborhood:
1. Pixar (pictured)- You can't get more creative than this.
2. A vintage trailer – For the ultimate mobile worker.
3. Red Bull London – Roofdeck and a slide!
4. Mindlab (pictured) – These are government offices?
5. The Happy at Work project – The author's own budget-minded take on the workplace.
6. Conference bike (pictured) – See our previous entry for nonstop smiles.
7. Menlo Innovations – Another example of a budget-minded, collaborative workplace.
8. What If? Innovation – The UK's happiest workplace in both 2004 and 2005.
9. VW Phaeton plant – As humanistic as a car manufacturing plant can be.
10. Google (pictured) – No surprise here. Shouldn't be too hard guessing which of these images is from Google's workplace.
Then there's my favorite where I work, the Affinity Lab :)
See many more cool workplaces profiled on this website here.
By the way, you can read Alexander's book for free here, just because he thinks it's that important for you to enjoy your job.