Crowd Clout' coming to cool towns?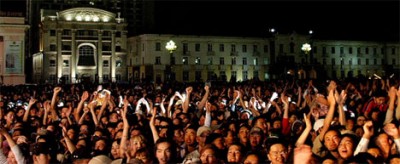 We all know people are organizing online to get what they want. However, because people are now doing it with such ease, speed and unprecedented influence, our friends at Trendwatching felt it deserved a unique distinction:
Crowd Clout: "Online co-buying consumers revealing their purchasing intentions to make the most of their investments. These efforts target a specific cause, be it political, civic or commercial, aimed at everything from bringing down politicians to forcing suppliers to fork over discounts."
Some examples included in the Trendwatching report:
– Music lovers investing in bands to finance studio recordings before/if they hit it big,
– Real estate services connecting people who have cool places (but not yet for sale) with people looking to buy
– Gadget aficionados co-designing, co-investing in future electronics (see story here)
– Buyers aggregating their purchasing power to buy things at lower prices
Stay tuned, because in a week or two you'll hear about some crowd clout efforts to establish new cool town destinations, from a new organic cafe/bar/coffeehouse to renovating a 55,000 warehouse into an arts and music live-work community.