A contemporary take on coffeehouse design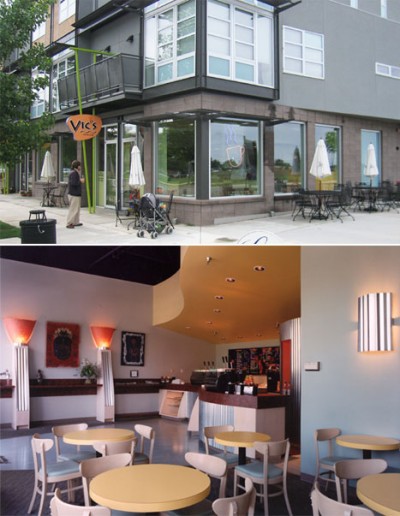 In contrast to the grungy, bohemian, shabby chic warehouse coffeehouse/bar/restaurant/art gallery warehouse profiled yesterday, I thought I'd present a modest, contemporary, yet progressive coffee stop known as Vic's in Boulder, Colorado (not hip enough to have a website apparently). It's one of the few good examples of modern architecture presented at a humanistic scale, but thankfully we're seeing more of this.
Live music, poetry, free wireless, and legendary coffee, it's no coincidence that one can find a Vic's in what is one of the most progressive new communities (ie built from the ground up) in the country – Prospect in Longmont, Colorado. Or that it's located on Tenacity Drive.