A postcard portal for post-Katrina city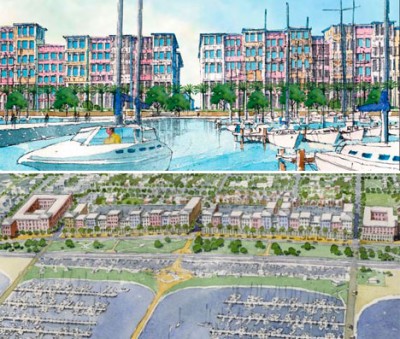 What to do when your city is devastated by Hurricane Katrina? The government and city leaders of Long Beach, Mississippi, a city of 17,000 people, allowed its citizens to reshape the city's future into a postcard portal, facilitated by an urban design firm familiar with the creative class, Ayers Saint Gross.
The result is the Long Beach Mississippi Concept Plan, a regional master plan the recently received a CNU Charter Award for New Urbanism, mentioned in the previous entry.
The public sentiment was focused on establishing a commercial center, a focal point, and an identity, and as you can see, they not only achieved that, they also passed the postcard test and created a portal or gateway for the city, linking the marina to its main thoroughfares. There is no question that, based on these images, this vision not only communicates that this is the heart of the city, but that this is Long Beach, Mississippi and not any other place in the U.S.
This unique identity is largely achieved via the humanistic verticality of the rowhouse-type flats. Note how less inspiring the place would be if those buildings were replaced with the mid-rise buildings anchoring them on either side.
You can download the entire Long Beach Mississippi Concept Plan here.