Budapest's fave 'third place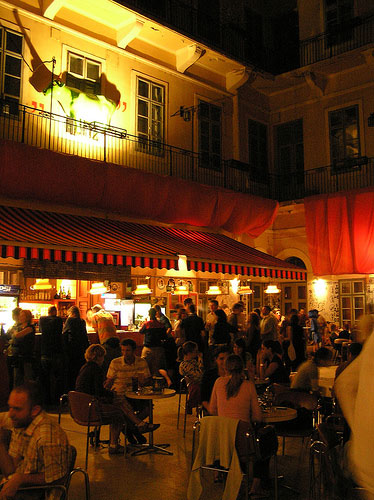 There's a lot of talk that Budapest is the 'next Prague', so while I have yet to frequent this up and coming Hungarian city on the Danube, I thought I'd try and identify the favorite third place for locals…
It could very well be a hang-out called Szoda (Soda).
Some of the words associated with this cafe/bar: funky, bohemian, artsy, retro, shabby chic, young, good beer/coffee, good prices, danceable music, very friendly, down to earth, relaxed, free soda… note the Japanese Manga cartoons on the walls – it definitely infuses the place with some edge. One of its best features? A courtyard that serves as an entrepreneurial workplace by day, a drinking/dining experience under the stars by evening. That's the hallmark of a great third place – you don't have to leave.
Better yet, some of the reviews by people who've been there…
"The decorations are really cool with all the bottles lined up on the shelves…" (hence the name).
"A relaxed, very down to earth bar where actual locals gather."
"Reminded me of something you would find in the lower east side in Manhattan, NY. Definitely gonna be my regular place of habitation. No frills, all good."
"Szoda is a good example of a present day Hungarian Bar a place where Hungarians go, which in Budapest is not always that easy to find, not without a bit of help. By day it is a busy mix of students and laptop types almost like a place of learning rather than a bar."