Best Green Cities in America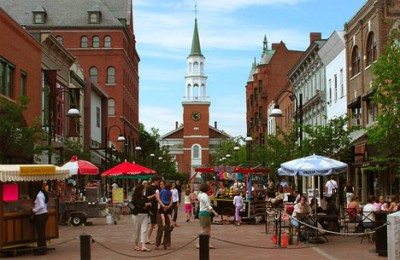 Ever wondered what cities really were the most green? Country Home magazine ranked 379 metropolitan areas in their Best Green Cities in America report.
Here are their top 10 green cities, based on air and watershed quality, mass transit use, power use and number of organic producers and farmers' markets:
1. Burlington, VT (pictured) – It definitely deserves the top nod. Among it's winning attributes:
– A program collects food scraps from restaurants, supermarkets and food manufacturers and sells them as compost to farmers, gardeners and landscapers.
– The city hosts 16 farmers' markets, five organic producers and three food co-ops.
– 12.3% of Burlington-area commuters use car pools, 5.6% of the work force walks to work and 4.6% work at home.
– It's also one of the most progressive cities overall. There are no less than a dozen mentions of Burlington on this site, including a profile and study of its retail in the members area.
2. Ithaca, NY
3. Corvallis, OR
4. Springfield, MA
5. Wenatchee, WA
6. Charlottesville, VA
7. Boulder, CO
8. Madison, WI
9. Binghamton, NY
10. Champaign-Urbana, IL
Tell us about your city!
Image source: redjar