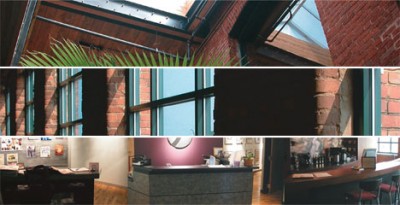 Where do you put your city's most innovative companies?
Well, in Greenville, SC, the answer is easy. They'd obviously go into the Innovate Building.
What makes it worthy of the name, and more importantly, the companies?
The loft-like building is located downtown in a former textile mill built in 1908 with hand-molded brick, exposed timbers, and stunning solid maple flooring, yet it features state-of-the-art audio and visual communications systems; open, flexible floor plans; and daylighting throughout. The 53,000 s.f. building also features a patio that provides opportunities for events and entertaining, with a great view of the city's river, and a lease rate of $17/s.f./year.
However, it's the companies themselves that give the building life, and a workplace this inspiring needs the kind of forward-thinking people to synergize with its surroundings. This is when job growth takes off. The Innovate Building nurtures a marketing company, Brain on Fire; an environmental firm and the city's metropolitan community weekly.
I highly suggest checking out Brain on Fire's cutting edge work on their website – that's how I found out about the Innovate Building in the first place. In fact, their theme is pretty much dead on for a cool town,
"Life's just too short to live it in the shadow of fear and the rut of mediocrity."