The grocery store every downtown wants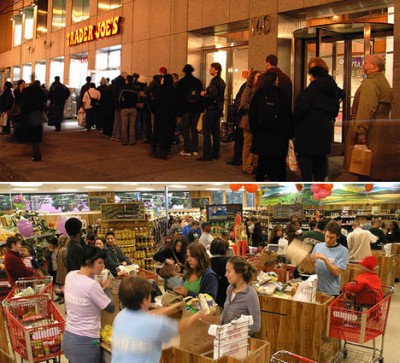 Why is there such a frenzy to score a Trader Joe's in one's neighborhood? To sum it up with a quote sourced amid the hysteria of NYC's first Trader Joe's ever last year (pictured above), "It's kind of like the Grateful Dead of supermarkets."
Yes, it's a chain, but for the neighborhood that isn't able to organize its own co-op supermarket, finds Whole Foods too pricey for normal shopping, detests the suburban chains, and can't get everything it wants from the smaller neighborhood groceries, downtown populations want a Trader Joe's… badly, desperately… as this L.A. article provides evidence of.
What's the insane appeal to the growing downtown market and the ? Not only grocers, but small businesses, take note! TJ's is know for:
– Low prices. Oftentimes shockingly low, such as…
– Two-buck chuck (now $2.99 for a decent bottle of wine), which is a cult all its own.- Unique items. 80% of their merchandise has their own label.
– A health-oriented selection where more than a third of its offerings are fresh, plus a large selection of organic, vegetarian and even vegan products.
– Operating as a triple-bottom-line company.
– Legendary customer service, especially in listening to its customers.
– A 'life is too short not to have fun' vibe. For instance, their ads read like conversations and the staff 'uniform' is aloha-themed. Priceless.
Image sources: baobee and juicyrai