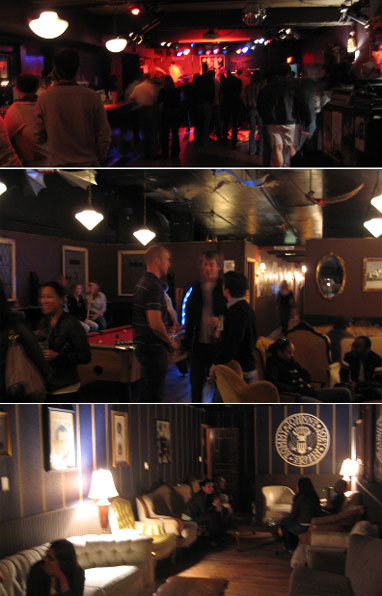 How does one combine history with contemporary culture while revitalizing a financially neglected commercial district? Check out Washington DC's Rock & Roll Hotel in the up and coming H Street Corridor.
The live music nightclub's website best frames its historical context: "Places like The Savoy in London and the Inter-Continental Hotel in Paris have established themselves throughout their history as bedrocks of prestige and luxury service. The Chelsea in New York City, originally built in the heart of the city's theatre district, has housed artists for over one hundred years and today remains the hub for a thriving, creative subculture. And so for Washington's famed H Street corridor we offer "The Rock and Roll Hotel."
The venue's second story lounge (middle image) is an effortless fusion of the 1920s (vintage bar, furniture) with modern bohemia (exposed ceilings, 'flying electric guitars' hanging from the ceilings), and the result is a relaxed, unpretentious crowd. On the same floor there are multiple themed suites (lower image) that people can rent for private gatherings, but not overnight. The stage and dance floor (top image) of the 7000 s.f., two-story building are located on the first floor.
A nightclub needs revenue during the day to stay profitable long-term, and the Rock & Roll Hotel stays true to its identity with:
– Three practice spaces for bands to rent in four-hour slots
– A recording studio (under construction)
– Music classes (under development)
More on H Street's creative rise here.