Young developers focus on 'workforce' housing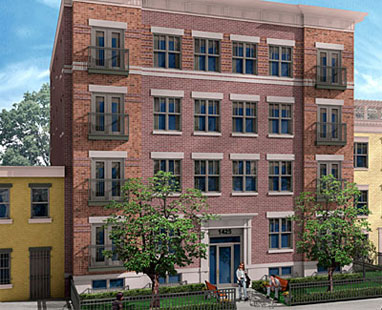 Talk to any urban real estate developer and you'll quickly discover their goal is to sell their units at the highest price possible for whatever property or site they're developing, which is why you often see the adjective 'luxury' attached. Fortunately, the urban luxury housing market is nearing saturation at the same time a young generation of developers are emerging that empathize with their peers who can't afford what boomers can, yet still want quality construction. I guess you can call it affordable luxury (think JetBlue).
One such firm is Ellis Denning, a trio of partners in their mid-30s with a goal of developing well-crafted homes for those at or below the median income. In the Washington DC area, that means homes priced at below $200,000 at transit-oriented sites, and under $250,000 in the heart of the city.
One of their 'secrets' is their specialization in light gauge metal and wood frame construction for buildings 5 to 7 stories high that typically require much more expensive concrete and heavy steel. It's these cost-saving investments, such as structural insulated panel and modular off-site construction that deserve a tremendous amount of credit for caring about lowering the price point for 'the rest of us'.