A national model for arts as economic development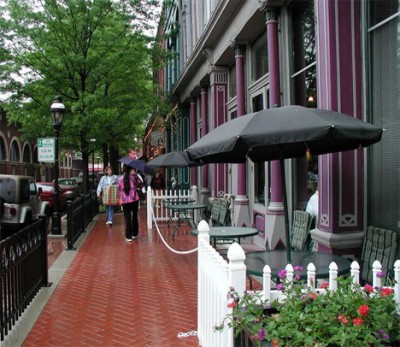 How do you attract artists into a neighborhood/district, then keep them from being gentrified out of the area later? You may want to look at the Paducah Artist Relocation Program (mentioned here a couple of times before) – that far and away provides one of the best programs I've seen to turn artists into permanent building owners.
Based in the small town of Paducah, Kentucky (pop. 27,000), implemented in August of 2000, and now having served over 70 artists, the program's incentives include:
– Free lots for new construction as available. This is a biggie, no doubt, and past examples included lots with buildings that were latter rehabbed.
– 100% financing for purchase and rehabilitation of an existing structure or the building of a brand new structure. Basic loan package is 7% – 30yr. fixed rate up to 300% of appraised value. This is a biggie too, if you know what you're doing.
– City will pay up to $2500 for architectural services or other professional fees. This is an extremely valued service that is often otherwise overlooked, and unfortunately it shows. Architectural design is not something you want to DIY.
– Dual zoning for commercial and residential use, enabling residents to have gallery/studio, restaurant/café, etc. and living space all under one roof.
– National marketing and publicity of the arts district and Paducah.
Read the story behind the arts program via this ABC News article.
Thanks to Sandy Maxey for the reference!