KC revitalizing its historic music district with some jazzy style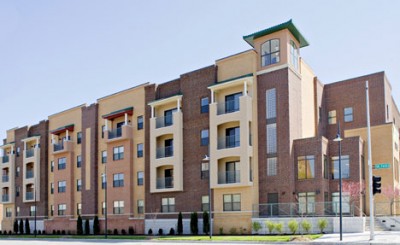 Baseball and jazz – two distinctly American traditions that have defined the history and now revitalization of Kansas City's 18th & Vine Historic Jazz District.
The City recently invested $24 million to build new museums that preserve both the legacy of its charter member of the Negro National League in 1920, the Kansas City Monarchs (the longest running franchise in the Negro Leagues' history) and its reputation as a "wide open" destination for jazz in the 1920s and 1930s, attracting many industry legends. Along with a restored 1912 theater and a number of restaurants and nightlife venues leading the way toward a 24/7 vibe, the time had come to provide new housing on the empty lots in the once neglected neighborhood.
Jazz District Redevelopment Corporation">Public and McCormack Baron Salazarprivate joint efforts resulted in The Monarch (pictured), named after the landmark baseball team, providing 51 affordable and 27 market-rate apartments along with two other buildings. Most important is what it brought to the neighborhood, best stated via the developer, McCormack Baron Salazar, "Our goal was to help bring life back to the area. If people are living here then there is more incentive to continue bringing retail and restaurants back which will make the 18th and Vine Jazz District thrive once more."
From the project's architect, Rosemann Associates, "It was important to capture the historic flavor of the district while giving it a contemporary flair."