Durham turns the corner from industrial to information economy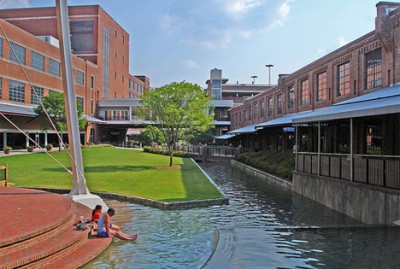 Yesterday's entry profiled how a French town evolved from the industrial age to the information age. Today's entry profiles how a small American city is doing the same while respecting the history that put it on the map.

Just as the city of Robaix, France saw the transformation of its outdated textile factories into modern uses, Durham, North Carolina's downtown took a major economic turn upward when the first tobacco factory in the country (1874) reopened as the American Tobacco Historic District 130 years later. Being adjacent to the popular (and famous) Durham Bulls and their ballpark (pictured) provides a concentration of visitors, and the 400 plus lofts being built in the immediate area along with the on-site companies bestows a permanent one.
The developer, Capitol Broadcasting, rejuvenated nine factory buildings on 16 acres of downtown real estate into a $200 million, one million s.f. destination comprised of high-growth companies, restaurants (albeit one Starbucks), shops, some residences, and a central green (filled with people during concerts) wrapped by a 1/4 mile-long waterway (both pictured above). $43 million of the project's budget came from the City for parking garages. Yes, accommodating cars is costly on many fronts.
Check out discussions on the project before it opened here – it was destined to be a success.