Going for the gold in green development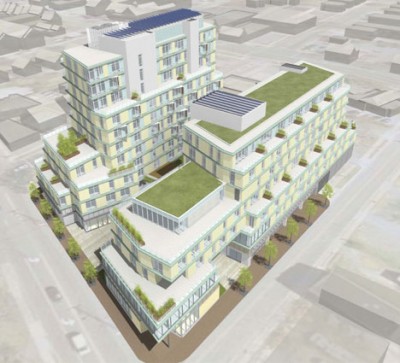 It's not easy being green. Greenbridge, a 104,000 s.f. urban infill community in Chapel Hill, North Carolina is planned to be the state's first mixed-use development to be LEED Gold certified by the US Green Building Council, no small feat considering the first LEED certified multi-unit residential ever was announced less than a year ago.
The vision starts with the six families that make up the development team. They shared the cradle-to-cradle approach to sustainability that ensures that "new products are designed from the outset to provide nourishment for something new, after their useful lives are over." So naturally (no pun intended), they hired the person that coined the term and wrote the book on it, William McDonough, who was presented on the cover of Time Magazine as a Hero for the Planet.
Greenbridge will provide 99 condos (15% affordable), 45,000 s.f. of retail and 15,000 of office with all of its 216 parking spaces underground, plus a fleet of Zipcars. It's list of sustainable development features is extensive:
– Green roofs with rainwater basin and cooling system
– Photovoltaic and microturbine electrical generation
– Maximum natural light exposure and clean-air filtration
– Sustainable building materials such as Forest Stewardship Council (FSC)-certified wood, low-VOC paints, and natural metals and masonry, along with construction recycling.
– A community learning center to teach sustainable living practices.
– Condos will utilize low-E windows, low-flow toilets, energy-efficient lighting, HVAC systems and Energy Star appliances, some with green terraces.