DC mayor proclaims shared workplace with its own day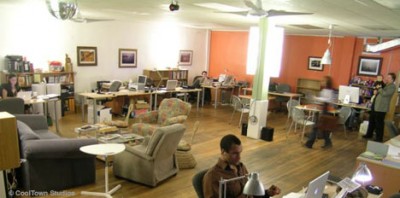 Can a co-workplace; community and collaboration space for entrepreneurs and independents, be so cool that a mayor of one of the most important cities in the world feels it deserves its own day?
Apparently, yes, for May 10, 2007 is now officially Affinity Lab Day in Washington DC. The official recognition by the Mayor of DC, announced on the sixth anniversary of "The Lab", follows:
Affinity Lab Day
May 10, 2007
A PROCLAMATION BY THE MAYOR OF THE DISTRICT OF COLUMBIA
WHEREAS, a small group of District of Columbia entrepreneurs gathered in late 2000 to transform a deserted storage space into a collaborative work environment; and
WHEREAS, the founders of Affinity Lab envisioned a facility that would address the basic needs of nascent small businesses; and
WHEREAS, starting in early 2001, Affinity Lab began to draw entrepreneurs who would collaborate on projects and make their own businesses stronger; and
WHEREAS, Affinity Lab has since aided in the successful launch of more than 20 District-based companies; and
WHEREAS, Affinity Lab has helped to attract daytime visitors to Adams Morgan, a neighborhood better known for its nightlife; and
WHEREAS, Affinity Lab has been a leader in sustainable business with its use of recycled products and renewable energy; and
WHEREAS, Affinity Lab for the past six years has advanced the District Government stated goal of attracting and retaining quality local, small and disadvantaged businesses to the District of Columbia:
NOW, THEREFORE, I, THE MAYOR OF THE DISTRICT OF COLUMBIA, do hereby proclaim May 10, 2007, as 'AFFINITY LAB DAY' in Washington, DC, and call upon all the residents of this great city to join me in celebrating this local, small business.
Signed,
Adrian M. Fenty
Mayor, District of Columbia