WSJ – 'Animal House Meets the Empty Nest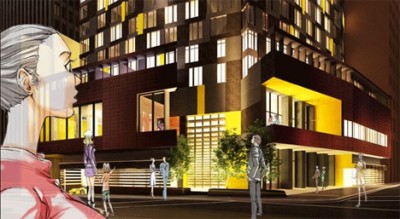 The Wall Street Journal article, Animal House Meets the Empty Nest, sums up the conflict real estate developers are having when trying to cater to the younger urban condo market:
"Get it right, and buyers will pay a premium for the chance to be surrounded by their friends. Get it wrong – too expensive, too many neighbors that are mom and dad's age – and developers can be stuck with a building that doesn't sell."
One community that is suffering from extremes is Viridian, a downtown Nashville project that just opened last October. The empty nester crowd is looking to take over the condo board to shut down the 'animal house' partying by the younger set. One reason it's failing is that it went with the 'anyone who wants to live downtown' approach, attracting people with entirely different opinions on what 'downtown living' meant.
On the other hand, the William Beaver House (pictured – the building has lousy street presence, but that's another story) in NYC, with its R-rated marketing and theater/lounge amenities clearly communicated it was intended for the young socializing crowd, overcoming Viridian's mistake from the beginning. However, few could afford it, thus the developers found themselves needing to attract unintended markets, which will inevitably lead to friction.
The value of the beta community.
Of course, none of these developers listened to what their future tenants actually wanted themselves, which is what the beta community is based on. It also provides an opportunity for the tenants to establish a sense of community and trust – a trial period – before moving in. Few things are more frustrating than not being able to shape your own future.
The WSJ article lists other communities that have a theme from which to base a sense of community on (ie art, the environment, boaters, gays/lesbians, an alma mater), and while it's a step in the right direction, not listening to the tenants beforehand will result in a place that's more reflective of a contrived Disneyland than an authentic community.