Rockville, MD really laying on the urban fabric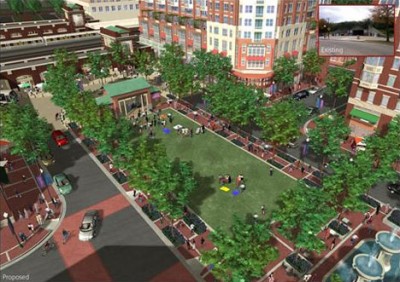 Rockville, MD may not have a reputation for being a creative urban city in the Washington DC area, but it's certainly looking to change that in a hurry. It's Rockville Town Square makes a noble attempt at replicating a piazza, and its upcoming Twinbrook Station is garnering prestigious awards for sustainable urban planning.
The 26-acre Twinbrook (pictured) is a transit-oriented development located right at one of Washington DC's Metro subway stations. What used to be a collection of parking lots is being replaced with 610,000 s.f. of office, 160,000 s.f. of street-level retail and 1288 residential units – that's a lot of community being added that wasn't there.
Unfortunately, the supply of mixed-use urban development has yet to reach demand, so the units aren't necessarily affordable, nor are they designed small enough with affordability in mind. However, the market will correct itself once the demand for 'large luxury condominiums' is met and we will soon enough see new urban housing that the 'everyone else' can attain.