Triple bottom line retail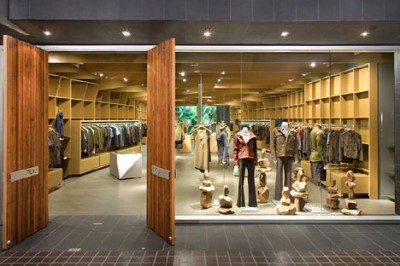 Cool towns are all about local indie businesses, and that's why it's important to listen to author Katya Andresen's message in her book, Robin Hood Marketing: Stealing Corporate Savvy To Sell Just Causes. You may not want to live among a herd of national chains, but it's wise to learn from them since they spend so much on market research and innovation.
One such business is Nau. Speaking of robin hood marketing, more than half of Nau comes from Patagonia, a long-time triple bottom line company. Rather than repeat Nau's marketing slogans, here's their triple bottom line approach:
Environmental/Planet
– The retail space is green building LEED-certified and prefabricated with reusable fixtures.
– Customers can try clothes on in the store, then use in-store kiosks to order them at 10% discounts and free shipping, cutting building space (and energy costs) by nearly half.
– It's fabric research is 'open source' to allow its competitors to benefit from and improve its environmental impact, and only using 100% certified organic cotton and wool and recycled/recyclable synthetics.
Social/People
– Customers choose which charity 5% of their purchase will go to. The industry standard on the high end is 1%.
– Minimum required age for overseas factory workers.
– The stores feature speakers on socially-conscious topics.
Economic/Profit
– Because they do such a great job of fulfilling the other two bottom lines, they've established a loyal and fast-growing customer base.
They also focus on a creative class market, witnessed by their fashionable, yet high performance biker shirt for women. Read more about them in Fast Company.
At the very least, Nau provides its customers with a unique status-driving story with each experience, as one observer noted, The place feels like a cocktail party". Here's one story for you – Nau's founder Eric Reynolds originally registered the company as UTW, which stands for "unf–k the world."