Portland Public Market – design isn't enough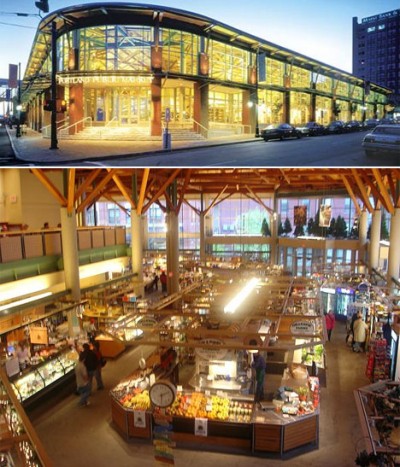 In the heyday of cities, indoor public markets were as popular in U.S. cities as they are in most other cities around the world. After a few decades of the suburban experiment, they're making a return along with emerging populations of downtown residents. Perhaps a little too soon on the scene of this next generation fresh economy renaissance is the Portland Public Market in Maine. It broke ground in 1997, but wasn't been able to remain open despite award-winning accolades on its design. In other words, the point here is that this is what a public market should look like, but not developed and managed.
The hall housed 28 permanent vendors indoors, with 20 seasonal sidewalk vendors, all supported by area farmers, and two restaurants that featured such local products.
It represented the modern experience economy with events, festivals, catered parties, and a state-of-the-art demonstration kitchen for cooking classes. Starbucks started in such a market (Pikes Place Market in Seattle), another robin hood marketing lesson.
In the end, it was lack of a public-private partnership, not as much the norm back in the mid 90s as it is today, that simply made the project too costly for the private sector to succeed alone. This is especially the case with new construction – as noble as replacing a parking lot is, private sector new development without public partnerships typically means it must be upscale, and that's simply not what public markets are about.
For a review of public markets that have succeeded, though not nearly as beautiful, check out Project for Public Spaces' profiles.