Neighbors form their own development firm to do it right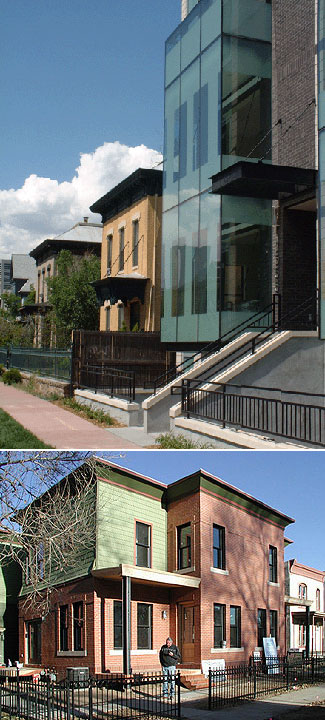 As they say, if you want something done right, do it yourself, and that's just what the neighbors of historic Curtis Park (just outside of downtown Denver) did.
It started with one progressive-minded resident (and architect), Cathy Bellem, who realized an empty lot in their ethnically and economically diverse neighborhood was being bid on to build a project to maximize profit at the expense of the local character. She took it upon herself to rally her neighbors to raise the money to buy the lot themselves. The next day she had $40,000 in checks and soon raised the $150,000 to buy the site. A bit of crowdsourcing and beta community if you will.
They formed an LLC, named it the Curtis Park Investors Group, and sold $5000 shares, with each share garnering a vote. There was enough collective talent within the neighborhood to provide all the expertise needed, resulting in the contemporary four-townhouse Champa Terrace (lower image), which sold out within a month. Not only that, the resident investors enjoyed both a 65% return on their investment along with enhanced property values.
The logical next step for Bellem was to establish a development company, Grassroots Neighborhood Development, and completed a second project – a $2.5 million, award-winning six-townhouse development called Merchant's Row (upper image), achieving that rare balance of human-scaled modern design. Attainability for both owner and renter is key – the homes feature a rentable basement, and a fully integrated Building Information Modeling (BIM) process cut subcontractor bids by almost a third in some areas.
The group is now seeking a third project. Read more about this phenomenal process and its resulting buildings here.