An alternative story to opening an alternative restaurant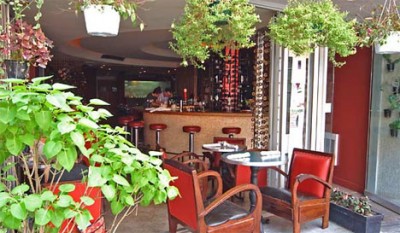 You dream of opening your own restaurant or bar that you feel the world needs and is ready for, but no one's providing. Yet you don't have the money or the experience. Here's a story that may inspire you, or someone you know, because these are the kinds of people and places that make a neighborhood extraordinary…
It's the story of Counter, a vegetarian, organic wine bar in New York City.
Starting with $300 and an agreement to use a restaurant's kitchen in exchange for making their desserts, Deborah Gavito started her Body and Soul all-natural baked goods business in 1993. Her creations were a hit at farmers markets. Funded by that success, four years and a new-found partner (business and romantic) later, she began working toward her dream of buying a building an opening an organic vegetarian restaurant – neither of them with any experience in either.
They initially bought a building in 1997 for $780,000, then realized in mid-construction that their architect made a mistake in thinking the building was zoned for commercial use. After being compensated for the gaffe, the building became the couple's home (though it ended the romantic relationship) and it wasn't until six years later that they signed a 20-year lease at $7000/mo. for a building a half-block away to open Counter (the name was suggested by a customer).
What makes Counter, well, counterculture? (the origin of its name)
– It's vegetarian and organic.
– It has a rooftop garden where many of the restaurant's ingredients are grown.
– The wine bar features all natural martinis and 80 organic wines grown with a biodynamic process, presented via attractively priced, fun samplers.
– Customers receive a complementary frozen sangria pop rather than bread – a counter-appetizer you could say.
– They educate extensively on their vegetarian, organic vision via their blog and embedded video podcasts.