What's your 'Walk Score'?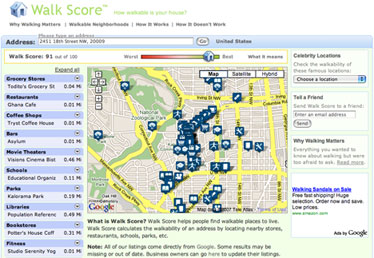 One key metric in measuring a neighborhood's triple bottom line is its walkability, and no site does that better than
Walk Score. Based on the number of retail businesses and amenities, you type in an address in its google-run system and it spits out a rating from 1 to 100 telling you just how walkable it is. Check out their rating system and benefits for scoring higher. One pretty darn handy feature is a left column list of the nearest common amenities, listed by distance.
As you can see based on the image, Affinity Lab, an oft-mentioned co-working place in Washington DC, rates a pretty respectable 91 out of 100. Of course, it can't beat most destinations in New York City, which garner the full 100 rating. My previous address in San Francisco's Upper Haight earned a 100 as well.
Thanks to the folks at Walk Score for mentioning us here in their What Makes a Walkable Neighborhood? section.
By the way, apparently the site was so popular that the Google-technology-based website was being put on hold on account of too much traffic… by Google. Now that's saying something.