The feminine touch a growing trend in city development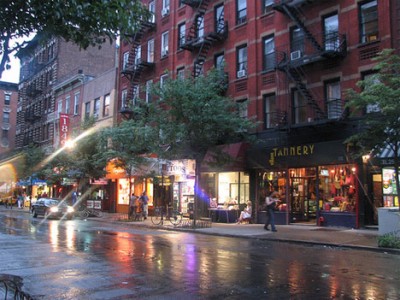 A hundred years ago women couldn't even vote, but their influence is finally catching up. Women today make 80% of the consumer purchasing decisions (equating to 2/3 of the GNP), and by 2010, women are expected to own half of the wealth in the U.S. There are countless signs of a women-oriented economy and it's just a matter of time before we start to at long last see their pervasive leadership in the investment of our built environments.
First, a look at their impact in the economy, aided by Trendwatching.com's report, Female Fever:
Women-centric economic clout is becoming more prevalent in male-dominated areas, such as with DIY tool kits for home and auto supported by classes, automotive repair, taxis, beer, and even 'health-oriented beer'.
That's just the beginning, because apparently women are fed up surviving in such a male-dominated world.
In Japan, Happily is a convenience store by women, for women, in Italy, La Spiaggia in Rosa is a women-only beach, and now…
…a women-only town?! …and in China of all places. The city of Chongqing will convert its Shuangqiao district into a 500+ acre 'Woman Town', once again, for women run by women. The town's slogan is, "A woman never makes a mistake. A man can never reject a woman's request".
All this is to say that the time is coming for women to be much more heavily involved in real estate development and investment. What would the results be if a male-dominated industry had a feminine influence? The signs may already be there… maybe this isn't the most politically correct thing to state, but with all the respect in the world, have you ever noticed that many of the gay-oriented neighborhoods (from the Castro in SF to Dupont Circle in DC to Greenwich/West Village in NYC) are consistently among the most attractive architecturally, from the streets to the buildings to the interiors, as well as are among the most economically successful?