The eat.shop guides to creative destinations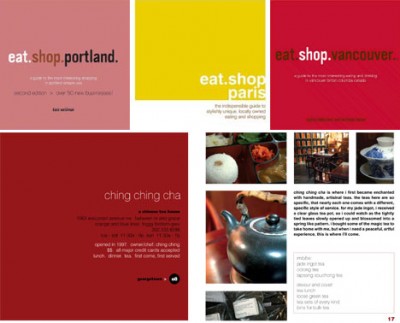 You're visiting a major city (or living in one) and are not only committed to avoiding the chains when pondering your dining and shopping options, but seeking out those cool, unique, indie places loved by locals and established by creative, progressive entrepreneurs that take those experiences to another level. Enter the eat.shop guides.
All 90 of the profiled businesses are unique, local, independent, homegrown, creative types "who are highly influenced by the arts and sights of the cities they live in", many of whom are VIBEs. Not only are the businesses authentic, but so is the design of the book – all photographs (each business has one) are taken with natural lighting without any staging, written in a conversational style by one person (in each city) who really understands the community vibe, and updated every two years to keep things fresh.
How did the eat.shop guides come to be? Founder Kaie Wellman, a graphic designer, was fed up with being dictated by her clients what good design was, so on a soul-searching road trip while at a gift show in San Francisco, she realized she could use her design talents to help inspire people to discover the hidden world of creative places to eat and shop in a city.
Starting with Portland, OR, the series now includes Austin, Boston, Brooklyn, Chicago, Los Angeles, Paris, Philadelphia, Rhode Island, San Francisco, Seattle, Vancouver and Washington DC.
The book sums up its purpose quite nicely in its 'about' section, "Support the locals, they are the soul of the city."