KC creatives get what they want – attainable downtown lofts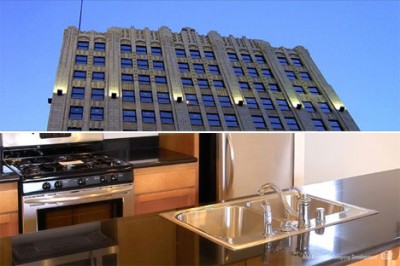 It's been kind of an oxymoron – attainably-priced urban lofts. With the help of the unrealized potential of downtown Kansas City and a full repertoire of government financing programs, creatives can get their hands on rather attractive lofts starting at $500/mo. for a 1BR/1BA to $620/mo. for a 2BR/2BA, at the Professional Building Lofts.
These aren't run-down units, but newly renovated loft-style residences with built-in washer and dryer, stainless steel appliances and wood floors, plus a community room with kitchenette and big-screen TV, an on-site fitness center, and a rooftop deck with kitchenette and bathroom. The $21 million, 132-unit project also consists of 10,000 s.f. of retail space, starting with a neighborhood-serving coffeehouse and deli.
The be able to provide such desirable rates, the developer, The Alexander Company utilized every financing tool in the book: state and federal historic tax credits (the 16-story building was constructed in the late 1920s), state and federal affordable housing tax credits, tax abatement, community development block grants, HOME funds/loans, tax-exempt bonds, and an economic development initiative. Whew, it's a good thing there are people out there that truly enjoy putting together such financial arrangements.