How'd you like to work in an office like this?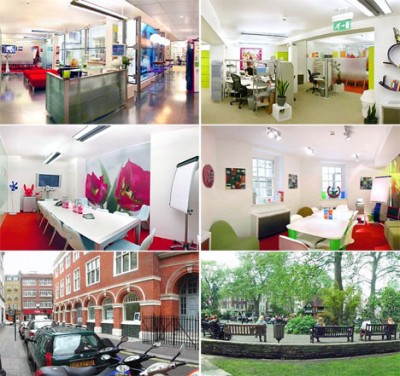 You may be among the millions of people who wish their workplace was a little more, shall we say, inspiring. Well, if you want an example of what such an office could look like, you may want to visit eOffice in London. Click here for a larger photo.
First of all, it's in the heart of Soho (see pic on our About page), the media hub of London and a magnet for cool cafes, bars and coffeehouses, creatives and entrepreneurs. What good is a an inspired workplace if it's in the middle of an uninspiring office park.
Second, it's designed by and for creatives and entrepreneurs, as you can probably tell, and its leases are vastly flexible for both size of company (1 to 15 people), stay (month to month leases or longer), and need (meeting rooms can be rented separately).
Founder Paolo Mucelli hatched the idea at 37 when seeking office space as a marketing director for his former company, frustrated at the lack of short term leases and willingness to rent to a newer company. 28 months later, and 12 months, $2 million after working full time on the idea, Paolo opened his offices on April 2, 2002. In his words, "The idea about eOffice came from my eagerness to have great office for myself, in a designer environment and with great technology. I had the vision to establish an innovative office environment available to individuals and small businesses wanting the set up a business in central London and wanting to have a ready made office solution, with the possibility of networking with like-minded individuals.
How successful has eOffice been since? It now has sixteen offices on five continents, including six in the U.S. Keep in mind that the cool factor for the interior design mirrors that of the neighborhood it's in, so expect vast differences between the interiors of eOffices in Tysons Corner, Virginia and the West Village in Manhattan.
Thanks to Rasul Sha'ir at Vosica for the reference.