Celebrating the microbreweries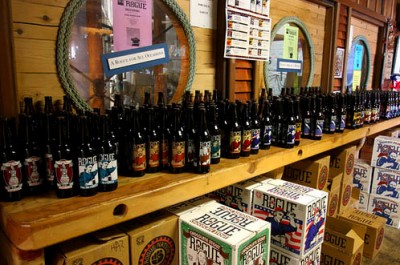 In continuing our previous story on the authentic value of microbreweries, thanks to the producers of the documentary, America Beer, here's a list of 38 of the U.S.'s top microbreweries that they visited in 40 days, followed by their abridged notes on what made each of them unique:
1. Brooklyn Brewery, Williamsburg, Brooklyn, NY – Black Chocolate Stout
2. McNeill's Brewery, Brattleboro, VT – In a former firehouse and police station
3. Long Trail Brewing Co., Bridgewater Corners, VT – Visitor center inspired by Hofbrau House, Munich, Germany
4. Magic Hat, Burlington, VT – Blind Faith, #9, Chaotic Chemistry
5. The Shipyard, Portland, ME – On Portland, Maine's waterfront
6. D.L. Geary Brewing Co., Portland, ME – English style ales
7. Allagash Brewing, Portland, ME – Belgian style ales
8. Boston Beer Works, across from Fenway Park- Blueberry Ale, Watermelon Ale
9. Harpoon, Boston – IPA
10. Empire Brewing Co., Syracuse, NY – Ideal beer crawl starting point.
11. Brewery Ommegang, Cooperstown, NY – Complex spiced Belgian ales
12. Victory Brewing Co., Downingtown, PA – Home of the famous 'Hop Devil'
13. Climax Brewing, Roselle Park, NJ – Only available in half gallon jugs
14. Cricket Hill, Fairfield, NJ – The newest brewery in the group
15. Dogfish Head Brewing, Rehobeth Beach, DE – One-time smallest brewery in America
16. D.G. Yuengling and Son, Pottsville, PA – Oldest brewery in America, remaining independent, not selling out, unlike Redhook…
17. Great Lakes – Cleveland, OH – Where Eliott Ness drunkenly fired his gun into the bar, rumor says
18. Bell's, Kalamazoo, Michigan – Bottle conditioned ales
19. Lakefront Brewery – Milwaukee, WI, new home to Bernie Brewer's Chalet and Beer Slide, a landmark of the old Milwaukee Brewers baseball stadium.
20. New Glarus, New Glarus, WI – Belgian Kriek style beer (each bottle uses 1.4 pounds of fresh cherries), raspberry, apple. Woman-owned, apparently the only one in the group.
21. Left Hand/Tabernash, Longmont, CO – Formed their own distribution company to help local craft brewers
22. Seabright Brewery, Santa Cruz, CA – Live music
23. Anchor Brewing, San Francisco – Bought in 1965 as it was going out of business.
24. Sierra Nevada, Chico, CA – The founder was a homebrewer since he was 13 or 14.
25. Anderson Valley, Boonville, CA – Made where the area is known for having its own language.
26. North Coast Brewing – Fort Bragg, CA – Red Seal Ale
27. Lost Coast, Eureka, CA – . The Downtown Brown, made in the middle of the Redwoods.
28. Rogue Ales, Newport OR (pictured) – The only brewery/bar/hotel on the tour.
29. Hair of the Dog, Portland, OR – Beers are named Ruth, Fred, Adam, and Rose.
30. Full Sail Brewing Co. Hood River, OR – Employee-owned celebrated with their own community-wide annual party.
31. Hale's Ales – Ballard, Seattle – Traditional English-style ales, plus a double-decker English bus transformed into a roving pub.
32. The Pike Pub and Brewery – Near Pike Place Market, Seattle, WA – Great pub scene, with brewery below.
33. Red Hook, Fremont, WA – One of the first craft breweries in the NW, still independent, but with Anheuser-Busch (aka the 'bad guys') distribution.
34. Pyramid, Seattle – Bavarian-inspired Pyramid Hefe Weizen
35. Berts Grant's, Yakima, WA – The 'first brewpub in America' (1982)
36. Snake River, Jackson, WY – Small brewery of the year, 2000 and 2001 by the Great American Beer Festival.
37. New Belgium, Fort Collins, CO – Celebrates beer and bicycling with their Tour De Fat. Home of 'Fat Tire', originally a home brew named by the owner after returning from mountain biking through Belgium.
38. Abita – Abita Springs, LA – On Bourbon Street, New Orleans, many bars offer 3 for 1 deals on Abita Amber
*39. Cape Ann Brewing Co., Gloucester, MA – Founded by one of the film's producers after being inspired by completing cross-country brewery tour.
See more detailed descriptions and websites of the breweries here.