Lessons on how to spark an indie rock scene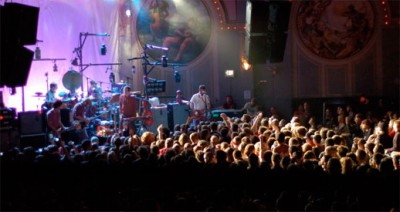 Rule #1. It has little to do with intentionally creating a music scene, especially genre-oriented. Musicians are fiercely independent – they'll go where they're personally inspired, not where city bureaucrats are trying to engineer it. Besides, once they're successful they no doubt enjoy being big fish in little ponds (ie REM in Athens, GA) rather than vice versa, so don't expect them to move to the equivalent of a Hollywood for musicians. There really isn't any, and they're on tour half the year anyway.
Rule #2. It has more to do with investing in the kind of place that attracts creatives in general, as the Slate article, The Indie City: Why Portland is America's Indie Rock Mecca will attest,
"Portland is like a resort community for indie rockers [members of Modest Mouse (pictured), The Shins, Spoon, Sleater-Kinney, Death Cab for Cutie…] who spend half the year working themselves ragged on tour. You can venture into public dressed like a convicted sex offender or a homeless person, and no one looks at you askew. It's lush and green. Housing is affordable, especially compared with Seattle or San Francisco. The people are nice. The food is good. Creativity is the highest law. For young, hip Portlanders, financial success is a barista job that subsidizes your Romanian-space-folk band or your collages of cartoon unicorns."
So, the point is that every city has a nascent music scene and the question is, how do you unleash it? Perhaps affordable, diverse, safe places to live; affordable, diverse, safe places to practice; affordable, diverse, safe places to perform and listen to music… stay tuned for a pretty cool story in the making on just that…
Image source: stop.down.